ADAPTOGENIC Mushrooms and Plants
What | How | Why we all need adaptogens.
Adaptogenic mushrooms belong to a group of foods, plants and herbs that have the ability to protect and heal us from the damaging effects of stress and illness, supporting our overall wellbeing and bringing us back to "THRIVING" rather than simply "SURVIVING".
They are Earth's most intelligent healers!
Teaching our body and minds to quite literally "ADAPT" to our current physical and emotional needs whilst working with our body to repair and re-build.
Mushrooms are a safe and non-toxic way boost to your daily routine, helping you achieve balance, reducing stress in your body, improve brain function and restore you to the best version of yourself.
They are the wisdom of a billion years, they are creation, they are resurrection, condemnation and regeneration.
They are the Earth's providers, here to heal you, here to feed you, they are MUSHROOMS.
shop now
Why Mushrooms?
Mushrooms are my love and passion, they have been used for centuries as sacred medicines in many different cultures for medicinal and ceremonial practices, they are one of a collection of wild medicines that we call master teachers.
These medicines help us to build more authentic relationships with our body, mind and being, creating a deeper connection with our self and our consciousness.
Medicines such as mushrooms help us tune into our inner intelligence and observe our patterns, behaviours, supporting our emotional clarity.
Offering private, one to one guidance, supporting you with your path to healing and building relationship with wild medicines in a safe and held space.
tell me more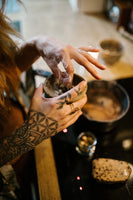 Natural Healing Medicines
You Are The Medicine
When we feel the call to natural medicines and embark upon this journey of self discovery, we understand that we are every part of the story which has lead us to the person we are today.
Together We Heal
Within the pages of our story we find the answers, revealing our most authentic self as we begin to peel back the unconscious layers and unlock our true potential.
Are you ready to begin your journey?...
Begin Now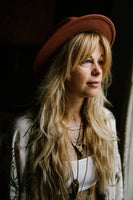 The universe directed me toward Daiba when I was looking for a natural remedy to help with anxiety and general wellbeing.

I was really impressed by the fact that Daiba's website is much more than a store, it's a great learning centre too. The products I ordered have done wonders for my mental and physical wellbeing and I will definitely be permanently incorporating them into my daily regimen.

Alison McCorquodale
Where do I begin…
From being tired, overwhelmed with stress and anxiety, not being able to concentrate at work, after two weeks with MyComplex I am full of energy, life feels good again. I can organise myself way better as I can focus on what I am actually doing…

I am being MYSELF. It's been so long!!!
The decision is yours, but I would recommend you get a bottle of MyComplex if your life needs a boost

Aga Antonowicz
Had a couple of orders from Daiba now and have to say I love everything about it from the ordering online to deliver and consumption!
Delivered in speedy time, packaged beautifully both the products themselves and the package its all presented in. Clear that a lot of love and passion goes into their work and products.
Highly recommend great prices and local company too.

Carl
Brilliant products and great service, so knowledgeable. The 'sleep tea' really works for me, can highly recommend if you prefer natural, organic products.

I will certainly be exploring more!

Sharon Harvey
I'm a regular customer of Daiba because their products are amazing quality and they care about what they're selling! In my last order, I got my usual night tea (best tea ever) and oil, and I also decided to try the Chaga mushroom capsules.

I suspected I had an ear infection at the time, and wanted a good, natural remedy to help my body heal itself. Well, I no longer had any ear issues after taking the mushrooms for about a week! Even if you're super healthy, plant-based and rubbish food free, sometimes our bodies still need just a little boost of something extra good to help sort themselves out, and I think that's what the mushrooms did!

Hazel
Let me introduce myself,
I'm Daisy,
Daiba Fungi is my wild remedies store and a supported space to begin your journey to your most authentic self...


Daiba Fungi has evolved through life stories combined, not just my own, but also of others who have supported my dream of creating a space to share the wisdom of these sacred and valuable medicines.

The starting point is about relationship and the commitment to own being, taking the first steps towards natural wellness and feeling supported throughout that journey.
Offering a safe and held space to explore the relationship
between psychedelic medicines and their potential for healing, integration and
creating a deeper connection with ourselves.
read more